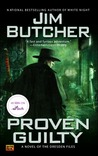 Proven Guilty by Jim Butcher
My rating: 3 of 5 stars
I can always count on Jim Butcher's Dresden Files for an enjoyable (and memorable) read. While Proven Guilty is no exception with its avalanche of movie monsters, fairy monsters, and courtroom drama, it simply lacks the punch of Dead Beat and the last few books. The intense life and death struggles are still here…they are just sandwiched between a lot of drama.
While I give Butcher some credit for playing with the formula a little bit, it could have done with about 50 less pages of Harry's existentialism over trying to be the perfect hero (we get it, you feel bad about recent events, you can stop reminding us every other page) and his sudden desire to act on his Murphy feelings (lets not kid ourselves, we all knew how round one of this was going to end). The extra pages gained could have helped him on the rushed trial sequence at the end.
Speaking of sudden, I give Butcher extra credit for creative use of divine intervention. Every time a Knight of the Cross story comes up, I always fear a cop out in the form of "he works in mysterious ways." This book does a wonderful job of playing with the concept, so perhaps I should stop worrying and love the Butcher.
Don't let the three stars and review fool you. The sharp writing and clever humor remain intact and I enjoyed the book. But if I compare it to previous books in the series, it just lacks the Forzare! of previous books.